The Connection Collection
Games decks for deeper conversations & meaningful moments with friends, family & colleagues.
Mindset & Mindfulness Collection
Card decks for inspiration, daily affirmation & personal transformation.
Play solo or one on one.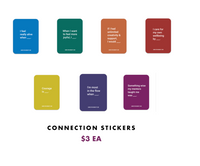 Cards for Connection Stickers
Seven of our favorite Cards for Connection as stickers to place to spark conversation.
Our stickers are super sticky and made of high-quality vinyl so they last.

Get the whole rainbow of stickers at a discount.
Shop for stickers & Accessories
This section doesn't currently include any content. Add content to this section using the sidebar.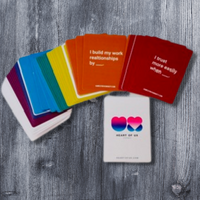 Custom Decks
Your logo and website on the back of our games.
Pick which deck or have us create a fully custom deck for your business, campaign, or event.
MORE ABOUT CREATING A CUSTOM DECK